Visitors
Welcome to Lakeway UMC
Worship at Lakeway is a blend

contemporary,
classic and original, gospel and praise.
Sundays at 8:30 am and 11:00 am.
Communion is served at the 8:30 am service
nearly every Sunday and at the 11:00 am service on first Sundays of each month.
Sunday School for all ages is at 9:45 am.
---
The Methodist General Rules: Do no harm.  Do good. Practice loving God!
Come and practice loving God with us!
---
---
---
Spirit JAMs at 5:00 pm with guitars, hymns, praise, prayers, scripture, sharing, and dinner
Come and Catch a Vision of What Might Be as Lakeway moves into the future with Christ.
---
Wednesday Studies with Pastor Allen Snider starts about 6:30 pm
"What It Means to be a Methodist Christian: a study in basic Christianity and the Methodist understanding and practice of that tradition."
Link to current Lakeway information:
We are located about 1 1/2 miles north of Pottsboro
on 

Texas Highway 289.
Christian Worship and Service are important to who we are.
We hope to see you this Sunday.
Lake Texoma visitors are welcome to worship with us.
---
Click here for local weather:
Click here for current Lake Texoma Water Level: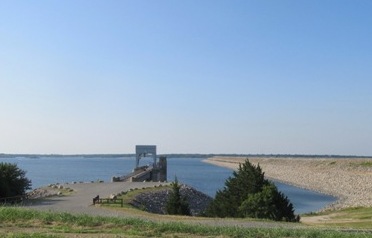 ---
Want to Make a Difference?  Christian Service Opportunities
Make a difference in the lives of our neighbors.

For information about our missions, call the church office during office hours Monday through Thursday (903-786-2138) or visit:
---
---
---
Lakeway United Methodist Church
15015 TX SH 289        P.O. Box 240
Pottsboro, TX 75076
Lakeway is located about 1 1/2 miles north of Pottsboro on State Highway 289 in Grayson County,
Texas, about 9 miles west from downtown Denison and 15 miles north from downtown Sherman.
Phone:  903-786-2138

Pastor Allen Wesley Snider •This e-mail address is being protected from spambots. You need JavaScript enabled to view it•
Secretary: Sandy Riddle •This e-mail address is being protected from spambots. You need JavaScript enabled to view it•
Music: Yvette Rowan •This e-mail address is being protected from spambots. You need JavaScript enabled to view it•
& Nick Mitchell
Youth  Ministries:  Curt Dyer •This e-mail address is being protected from spambots. You need JavaScript enabled to view it•
Children Ministries:  Trisa Dyer •This e-mail address is being protected from spambots. You need JavaScript enabled to view it•
---